Top five best tools for graphic designers.
"Good design is all about making other designers feel like idiots because that idea wasn't theirs."
– Frank Chimero
Here we will take a deep dive into the topic of tools used by Graphic designers in their day-to-day life.
Graphic designing tools work as a cherry on the cake for their work.
Aspiring graphic designers often enter into the industry expecting one thing only to have their education and experience. And " no designer can push the frontier without having the right graphic design tools by their side".
Now as we dive deep into the topic first lets discuss what is tool design?
It is known to be a specialized area of manufacturing engineering which comprises the analysis, planning, design, construction, and application of tools, methods, and procedures necessary to increase manufacturing.
Ensure in the graphic design field requires more than pure visual creativity and skills. Designers who take benefit of must-have tools will stand out in their field. Read on to learn more about the top five best tools used by graphic designers.
"Aspiring graphic designers need to learn more tools to highlight their abilities and build a successful career."
Designers use to be in a limit to only a few choices for professional graphic design tools
Here we going to discuss five must-have tools for graphic designers :
1. Adobe photoshop
"Design is not some buttons in your photoshop."
It is a popular favorite with graphic designers for a reason.
Adobe Photoshop was develop in 1987 by the American brothers Thomas and john knoll.
It is the predominant photo editing and manipulation software on the market. Its array of image editing tools supports the beginner to the pro with a user-friendly interface.
Photoshop is the standard digital tool use in a wide variety of graphic design roles including print, web, and interactive design.
Those looking to start a career in graphic design will need to learn photoshop but this is simply one step in the process of becoming a graphic designer.
Just knowledge of writing alone doesn't make you a good poet, similarly, a designer needs more than knowledge of Adobe Photoshop for graphic design work they produce to be visually appealing and effective.
The graphic design software puts you in control from the canvas size to the artist filter.
Interestingly, you can get photoshop and Adobe lightroom at a cheaper cost. The trial for photoshop includes 1TB.
Key features :
Content-aware fill: Focus on your message without the distractions.
A suite of design tools: Includes several attractive effects, such as 3D and Keith haring brushes.
Time Saving feature: streamlines the workflow with batch operations and automatic scripts.
The latter includes powerful image, video analysis, and 3D tools.
It may seem a little but if you want to build 3D into your workflow it is a lot.
What is Adobe Photoshop used for?
Photoshop is the most popular favorite tool develop by Adobe Corporation for photo editing and also for digital art projects.
The raster graphic editor is enrich with numerous functions, filters, and tools to make the editing task easier for users.
In case you are looking for other reasons we have discussed a few more purposes below:
Photo restoration
Resizing/Cropping
Animation
Website Graphics
Website layout
~PROS:
Complimentary mobile apps with a subscription plan.
Excellent integration with other Adobe programs.
Supports multiple file-formats including JPG and PNG.
Sher number of Designing tools
Creativity can be unlock fully with an integrated stock library.
Surplus of cutting-edge tools at one's disposal.
Photoshop offers unparalleled editing features.
Social platforms can be use for brand promotion with visually pleasing images.
Generate high-end graphics for your projects.
Make use of readily available Photoshop Templates.
~CONS:
Photoshop occasionally releases untested beta versions or updates.
Some tools lack progress monitoring facilities.
Less support for vector graphics
High-quality graphics are difficult to render
The program consumes a lot of spaces
The toolbar is less detailed.
2. Pixlr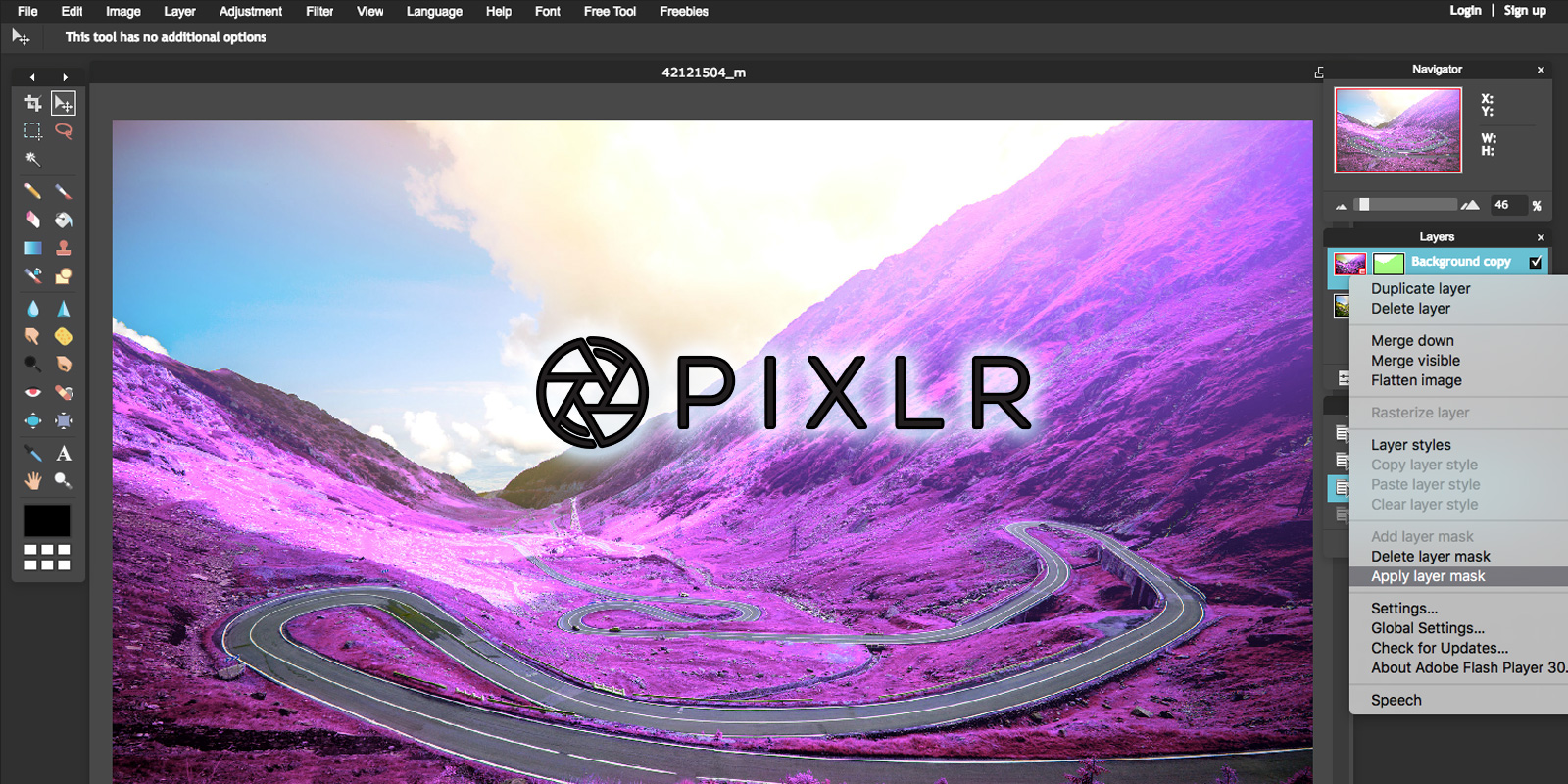 Pixlr was found in 2008 by Ola Swandersson, a Swedish developer.
It is a cloud-base set of image editing tools and utilities, including several photo editors and photo sharing services. This is a basic program that is perfect if you need the essential editing tools covered without all the bells and whistles and learning curves of more sophisticated offerings.
Pixlr empowers everyone to create, edit and share images online with ease through a creative suite of photo editing and design tools- making design smarter, faster, and easier for all.
This platform can be use on desktops and also smartphones and tablets. It is compatible with various image formats such as JPEG, PNG, WEBP, GIF, PSP, and PXZ creative documents format.
Pixlr offers a comprehensive suite of native and online-based image editing solutions. The online software provides users with the ability to edit a wide range of image types, including JPEG, PSD, and GIF formats.
It can be use across multiple platforms including PC, MaC, smartphones, and tablets.
What is Pixlr used for?
This platform is use to empower everyone to create, edit and share images online with ease through creative photo editing and design tools.
This platform is flash-base and available in three main applications:
Pixlr_o'matic: a lightweight, free image editing tool that allows users to add unique effects to transform pictures into appealing, professional-looking photos.
Pixlr_Editor: a powerful and feature-rich photo editor designed for the web browser.
Pixlr_express: an online photo editor that allows users to apply quick filters, fixes, stickers, and overlays to various image types.
Key features:
Drag and drop interface: easy to use without a lot of editing or image design experience.
Template library: includes professional-looking templates with collages options and market-driven ones, such as ads in a variety of sizes flyers, and business cards.
Social media content: choose from Facebook event covers, Pinterest, and Linked In company posts, among others.
~PROS
affordable price
social media integration
version options for skill level all needs.
~CONS
not initiative
no TIFF or BMP support
limited number of templates
3. Adobe illustrator
Usually, people get confuse between Adobe Photoshop and Adobe illustrator. It is true that Adobe illustrator is most popular and favorite tool of graphic designers.
It is a graphic-driven software use by artists and graphic designers to create vector graphics images. These images will be use for making logos, promotions, print media, and digital form.
Adobe illustrator is a very great and good software for graphic design, every designer prefers to use this tool to convert their imaginations into reality.
Adobe Illustrator is vector-base software that mainly focuses on resolution-independent graphics.
It is use to create and edit graphics. It contains a wealth of general and specialized tools to allow anyone to think of a design for almost anything to create it. Adobe Illustrator is an unparalleled tool for digital artists. Illustrator is a very powerful tool use to create and edit graphics.
What does Illustrator do?
Adobe Illustrator is use for creating, icons, digital artworks, logos, and more.
Graphic designers prefer Adobe illustrator over any other photo editing software because helps in producing vector-based images rather than producing raster-based images.
It is popular in the business world for graphic design projects related to marketing, advertising, and branding as well as with artists who create digital artwork personally and professionally.
Key features:
AI Scanning: Adobe Illustrator matches the color of an image or photograph with auto-extracting.
Creative Cloud: I give you access to your projects anywhere by cloud storage.
Huge Library: It has stock templates that include more than 90 Million images and icons and thousands of fonts.
~PROS:
Integrates with other editing tools in the Adobe family.
Easy to choose over millions of templates. –
Have a wide range of design tools.
~CONS:
Expensive Subscription plan.
Needs high learnings.
4. Procreate
If we talk about procreate it is a blessing for the sketch artists, It is widely use to create a digital sketch. Procreate was launch in 2011 for the artist and designers using the iPad and the penile. This was a revolution in the world of digital art because now sketch artists had hundred of brushes and shades to sketch in just one click. It is a one-time purchase of software with no free trials.
What is Procreate used for?
The most common use of Procreate for digital sketching is just the way it is done on paper. But instead of brushes and paper, the designer uses an iPad and an apple pencil. Imagine you can choose from hundreds of brush options to make a sketch look real and store it for years that too in a device that takes very less space in your bag.
Key features:
Tools: Procreate has around 200 customizable brushes.
One-time purchase: You get full access to the software in just one purchase.
Filters for finishing: Filters tool to unify image that creates the perfect look.
~PROS
Imports Photoshop brushes.
Supports apple pencil.
Creative user interface.
~CONS
Only for iOS.
No free Version.
High skills required.
5. Canva
If we are talking about graphic designing tools canva must be a tool to mention. It is a graphic designing tool that has a company valuation of $60 Million. It is a big problem solver for web designs, infographics, or T-Shirt designs. Canva was launch in 2013 and is one of the simplest tools that can be use. It has a paid version as "Canva Pro" along with the free assess to the software.
What is Canva used for?
It is mostly used to design creatives, mockups, and informative designs like some extraordinary presentations. Canva also supports many designers for creating animated videos and postable content for social media. The designer gets hundred of templates with custom options and can choose among different categories. Using the canva pro you get some more freedom of using the pro templates and tools like adding a team to the dashboard and scheduling and monitoring the work.
Key Features:
Drag and drop design: User-friendly interface allows you to move designs easily.
Social Media Integration: Integrate the social media and the post go directory to the platforms.
Collaborative: Easy to manage the team on the dashboard and work collaboratively.
~PROS:

Easy to learn.
Free version is available.
Rich in templates and elements.
~CONS
Fewer custom options.
Limited access in the free version.
Annual pro membership fees.
Downloads
Adobe Photoshop – https://www.adobe.com/in/products/photoshop/landpa.html?sdid=SGDJMMG3&mv=search&ef_id=Cj0KCQjwntCVBhDdARIsAMEwACmW6YADQmB84OfT_hNZM77mAoAn0ZSg7htr1nEtNZB3J-hgVZ36GyQaAiviEALw_wcB:G:s&s_kwcid=AL!3085!3!585712413968!e!!g!!adobe%20photoshop!16470706475!133281435039&gclid=Cj0KCQjwntCVBhDdARIsAMEwACmW6YADQmB84OfT_hNZM77mAoAn0ZSg7htr1nEtNZB3J-hgVZ36GyQaAiviEALw_wcB
Pixlr – https://pixlr.com/
Adobe Illustrator – https://www.adobe.com/in/products/illustrator.html
Procreate – https://procreate.art/
Canva – https://www.canva.com/